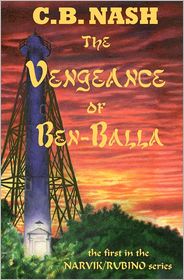 Available now for purchase in paperback or as an eBook for Nook and Kindle.
Struggling with a fatal disease, Philippe Ben-Balla comes to the Lee Island Coast seeking to avenge the death of his sons in the first gulf war.  He believes that his only hope for restoration, or redemption, lies in the assassination of a former US president.
His once vast criminal empire has eroded to the point that he has only three henchmen left to assist him.  One of these conspirators proves untrustworthy and Ben-Balla eliminates him.  Now he needs someone to take the man's place in his plot.
Ben-Balla enlists the aid of his daughter, Alba Cologne, to lure a sailboat captain into his scheme.  Matt Narvik is that sailboat captain.  He falls for Alba as he becomes unknowingly involved in the assassination plot.
Dexter Rubino is a retired Secret Service agent working as the head of a private security firm tasked with protecting the VIPs of an elite island resort town.  An old adversary of Dex's contacts him with a lucrative proposition to stop Ben-Balla.  Longing for a more comfortable retirement, Dex jumps at the chance and manipulates his security team into assisting him.  He has to race the clock in finding the assassin and prevent a global catastrophe.
What follows is an intriguing struggle between forces of faith, greed and patriotism.
 The Vengeance of Ben-Balla, Published by Brazenhead Publishing, LLC, Copyright © August 2011
ISBN 978-0-9837994-0-5 (paperback)
ISBN 978-0-9837994-1-2 (eBook)